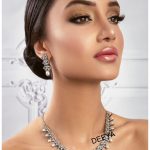 Fitoor Collection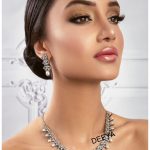 £120.00
Fitoor by Deeya Jewellery.
Formal Jewellery Collection 2018
Deeya jewellery for all your formal jewellery, reliable, friendly and reputable with happy clients that love coming back. Available to order as a full set or items can be purchased individually. Simply contact us to customise.
SPECIFICATION:
•
DELIVERY:
• 3-4 weeks UK delivery
• 5-6 weeks international delivery
Description
Simple but stunning silver cubic zirconia set with pearl drops. The earrings have a single pearl drop which adds lovely movement.
Fitoor by Deeya Jewellery.
Formal Jewellery Collection.